CMS stands for Content Management System, which is a content management system for web pages.
A CMS is a software developed so that any user can administer and manage the contents of a website easily and, most of them, without any knowledge of Web programming.
In order to take into account the most important or useful open source CMS sites, we leave you the top 20 most popular ones.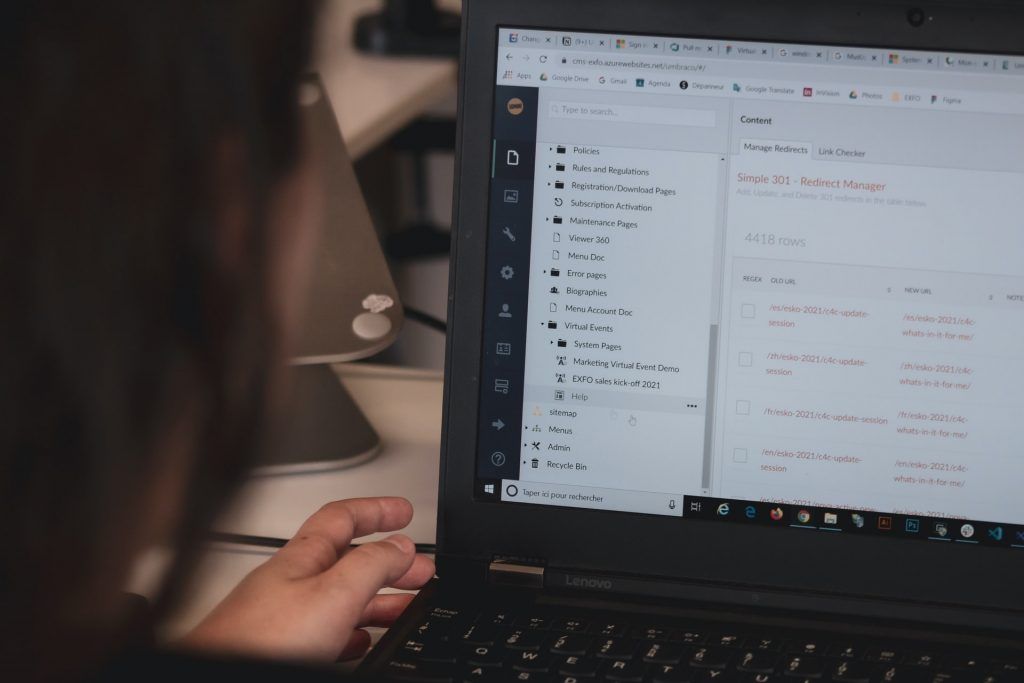 1. WordPress
WordPress is the most popular CMS in the world by far. It is famous, well-known and widely used as it powers more than 37% of all websites on the Internet.
This platform started out as a blogging platform, but has long since transformed into a full CMS that you can use to build any type of website, from e-commerce stores to membership sites, forums, and more. If you want to learn about the history of WordPress, you can take a look at our post.
In fact, WordPress, through the WooCommerce extension, is also one of the most popular ways to make an e-commerce store. Some of the reasons behind the popularity of WordPress are that it is free and open source, users of the platform can find thousands of WordPress themes to control the look and feel of the site. In addition, you can access more than 55,000 free plugins to extend the site's functionality. Users with a more advanced subscription can also use WordPress as a headless CMS.
As a positive point it is worth mentioning that it is a totally free website.
2. Drupal
Drupal is another popular open source CMS that fits in the same space as WordPress. With its flexible taxonomy system, Drupal excels especially when it comes to managing sites with large amounts of content, where load time and capacity is superior.
It also has an integrated user access system that gives you a lot of control over what registered users can do within the CMS.
Like WordPress, you can control how your site looks using themes and extend Drupal's functionality with modules.
Another similarity between this website and the first one mentioned above is that it is a free platform open to all users.
3. Joomla
Along with WordPress and Drupal, Joomla is the third entrant in the trio of popular and best-known open source CMS software.
Like WordPress and Drupal, this platform comes with large markets of templates and extensions, which help to create a website that suits your needs. Thanks to this great variety, you can choose to stand out from the competition.
In terms of the technical knowledge required, Joomla offers a middle ground between the above platforms. In addition, it is also free to access.
4. Magento
Magento is another free and open source CMS platform for e-commerce stores. It is flexible and with robust security, but it is also not very accessible for non-technical users, you need to have advanced knowledge to be able to use the website correctly.
However, from the same platform they offer to create the e-commerce for you if you do not have this technical knowledge.
While you can use the open source software for free (called Magento OpenSource), you can also pay Magento to set up and maintain your store with more features with plans starting at $2,000 per year.
5. HubSpot CMS
HubSpot is an excellent CMS for businesses and marketers looking to connect with customers. This platform has an integrated integration with the free HubSpot CRM.
This allows users to not only add leads directly to the CRM platform, but also to personalize the website to individual visitors, which can help convert them into customers. It has superior and more elaborate functionalities. That is why, in order to use it, a monthly fee of up to $300 per month must be paid.
Developers can drill down into the code to customize the site, while non-technical users can build pages using a drag-and-drop editor.
Other notable features include:
A/B/n integrated testing
Optimization of your SEO content recommendations to rank in Google search results
6. Kentico
Kentico is an enterprise-centric CMS that offers two different CMS products:
Kontent – a headless cloud-based CMS that helps you manage your content and deliver it anywhere through APIs.
Xperience – a local or cloud-based platform that wraps a CMS and digital marketing tools into one.
Kentico has a limited free tier for its Kontent platform, but it can be expensive if you need the paid options. To get started with the service it offers, it is free but, if you want to add new features, there is an annual fee.
Because Kentico Kontent is a hassle-free CMS, you will also need some technical knowledge to create the front-end of your website. Not just anyone will be able to make it work.
7. Squarespace
Squarespace is a hosted website creation tool that makes it easy for non-technical users to create a website. It can also be used to create an easy-to-use e-commerce store.
Squarespace is not as flexible as all these other tools, but that's actually its point of differentiation. By simplifying things, Squarespace makes it easy for non-technical users to create basic websites. Therefore, any individual who wants to
This platform, although simple, has a monthly fee of $16 per month. It is very economical, but it has a great competition.
8. dotCMS
dotCMS is an open source headless CMS with an API approach. A drag-and-drop user homepage can be used to model different types of content, thus making it easier to use and suitable for all individuals. For example, a blog post or an e-commerce product.
You can then use the API to deliver your content to any destination, such as a website or application.
This platform is free to use, but if you wish to have a premium or more elaborate service, there is a small fee.
9. Contentful
While most of these other tools focus on helping you create web pages, Contentful is designed for what it calls "omnichannel digital experiences."
In a nutshell, this means you can organize all your content in one main hub and then use it in any digital channel as needed. You will be able to query your content using a RESTful and Contentful API that caches all content on external CDNs in order to deliver API payloads in less than 100ms.
Contentful is a headless CMS, so some technical knowledge is required to implement it.
It has two different fees, depending on whether you are an individual user or a company. In both cases, it is an economical price with the great amount of functionalities it offers.
10. Zephyr
Zephyr is a cloud-hosted CMS that is marketed exclusively to agencies building client websites, not to individuals wishing to create a retail website, for example.
In fact, Zephyr is only licensed to agencies, so individuals cannot use Zephyr unless they are willing to work with an agency partner.
Because it is hosted in the cloud, Zephyr's main argument to agencies is that it is able to offer a maintenance-free alternative to other agency solutions such as WordPress or Drupal.
"Programming platforms can be simpler."
11. Canvas CMS
Canvas CMS is a cloud-based CMS that comes with a drag-and-drop design system, which makes it possible for non-technical users to design a customized website, without any usability issues.
All designs built with Canvas are mobile responsive and AMP ready, giving mobile visitors a unique and excellent experience.
For more advanced users, Canvas allows you to build dynamic database structures from within the CMS and also includes APIs for integrating data from other sources into your site.
12. Grav
Grav is an open source flat file CMS. The "flat file" designation means that Grav does not require a database to operate. Instead, it queries the contents of text files.
This makes Grav very lightweight and easy to deploy anywhere, since all you need to do is upload the files to the website. However, you can still create dynamic content types and filter content, and you will also be able to use a Markdown editor to create content.
It is a totally free platform.
13. Craft CMS
Craft CMS is an open source CMS that focuses on an easy-to-use content creation process. It also makes it easy to work with custom content types, with a built-in tool to design a custom field layout for different types of content.
To control the frontend, you can either build it individually using Twig templates or use Craft CMS in a headless configuration with the auto-generated GraphQL API of Craft CMS.
Like many of the previous ones, it is a free platform where, in order to make use of it, it is not necessary to pay any fee.
14. Sitefinity
Sitefinity is a CMS that focuses on helping marketers deliver optimized and personalized content.
Insights can be used to learn about your customers and offer personalized content. Then, you can also quickly set up new A/B tests to optimize your content.
Sitefinity can also be used as a headless CMS to deliver content anywhere and everything is hosted in the Microsoft Azure cloud for reliability and scalability.
15. Shopify
Shopify is a web-hosted e-commerce platform. After WooCommerce, it is the second most popular way to create an e-commerce store.
The main advantage of Shopify is simplicity. Because it is a hosted tool, no one has to worry about security or maintenance of the store.
Each user can focus on finding customers and growing the store.
However, it is not free, i.e., you must pay a fee of $29 per month, a very cheap price for the benefits it brings.
16. Umbraco CMS
Umbraco is an open source CMS software that you can host yourself for free, or you can use the paid hosting service of the same.
Each user can add content using a simple editor, along with useful features such as a built-in form editor. If needed, you can also extend the main CMS with Umbraco applications.
For more technical users, Umbraco also has a headless CMS offering called Umbraco Heartcore.
17. Agility CMS
Agility CMS is another headless CMS that allows you to manage content from one point and deliver it anywhere else via RESTful API, GraphQL and JAMstack.
With Agility, there are many options for managing content, including features for content modeling, SEO, scheduling, content relationships and more.
Then, this open source can ensure that content is loaded quickly by deploying content through CDNs.
In order to use Agility CMS, a monthly fee of $47 per month is required.
18. Adobe Experience Manager
Adobe Experience Manager is an enterprise-centric tool that combines a CMS with a Digital Asset Management (DAM) solution.
Adobe Experience Manager sites can be used to create personalized web experiences for visitors across different channels, while Adobe Experience Manager Assets can also be used to manage all of a brand's digital assets from a central point.
19. Oracle WebCenter Content
Oracle WebCenter Content is an enterprise content management (ECM) tool. It does not focus on creating Web sites per se, but on ordering and specifying this content.
Instead, it gives you a place to host unstructured content that you can then deliver to any application (including a website).
It also focuses more on managing documents, images, media files and logs, rather than giving you a text editor to upload content like many of these other tools.
20. Ghost
Ghost is a fast CMS written with Node.js that focuses on blogging and publishing primarily. To simplify things, Ghost has also incorporated some of the most important features that bloggers and media publishers need to monetize their sites.
For example, you can create email subscription forms and charge visitors for access to your content with monthly subscription fees.
However, Ghost is not a great choice if you want a CMS that can go beyond blogging/publishing.
The use of this open source platform is free except if you want a more elaborate version, which you must pay a monthly fee of $29.